Our Club welcomes new members
We provide bowling opportunities for everyone, no matter what your experience, ability or age. We are a friendly club, offering social and pennant bowling to all levels.

We have bowls for our new bowlers to use and free tuition.  Our club coach Carmelo Liistro is available for one on one or group coaching. 
Both of our synthetic greens have been been replaced recently – we have 13 rinks in total.

We have a well stocked bar with low prices 

AND WE HAVE PLENTY OF OFF STREET PARKING 
CHECK OUR WEBSITE FOR OUR MANY BOWLING AND SOCIAL ACTIVITIES
::::::::::::::::::::::::::::::::::::::::::::::::::::::::::::::::::::::::::::::::::::::::::::::::::::::::::::::::::::::::::::::::::::::::::::::::::::::::::::::::::::::::::::::::::::::::::::::::::::::::::::::::::::::::::::::::::::::::::::::::::::::::::::::::::::::::
*****COHBC NEWS***** CARMELO'S COACHING TO BE ON TUESDAYS AND FRIDAYS – WATCH FOR START DATE*****1ST JUNE BOWLING INFO UPDATED*****COHBC NEWS*****
::::::::::::::::::::::::::::::::::::::::::::::::::::::::::::::::::::::::::::::::::::::::::::::::::::::::::::::::::::::::::::::::::::::::::::::::::::::::::::::::::::::::::::::::::::::::::::::::::::::::::::::::::::::::::::::::::::::::::::::::::::::::::::::::::::::::::



TO ALL OUR CLUB 
MEMBERS
WITH THE FURTHER EASING OF RESTRICTIONS ON JUNE 1 THE FOLLOWING IS NOW APPLICABLE
REMEMBER SOCIAL DISTANCING AT ALL TIMES



The rules and requirements applying to each of the changes consist of the
following general rules plus any stated in each section.
Bowls activities are for CoHBC members only.
Spectators  are not permitted at the Club.
Clubroom open only for access to toilets-the bar and kitchen area remain closed.
Bowls to be played on the rinks which are set up. The set up corresponds to every second rink being used on both bottom and top Greens.
Hand sanitiser to be used 

before

 and 

after

 each bowls session.
All mats, jacks and Club bowls 

must

 be disinfected at the end of each bowls session.
Social distancing to be observed and practised, before, during and after you bowl.
Do not handle other people's bowls.
Do not attend the Club if you are feeling unwell.

CHANGE NO. 1.
From Wednesday, June 3, members can choose when, how often and for how long they want to bowl-just as you were able to do, before the Club was closed in March.
Each person bowling is expected to abide by the general rules listed above.
Bowls sessions will not be supervised.
In the bowls cupboard on each Green along with the supplies of sanitiser and disinfectant, there will be a list which each bowler

MUST

fill in each time they bowl, be that once per day twice per day or any other sequence.   Date, Time and Name

MUST

be filled in.
Members can bowl on the bottom or top Green, either individually or in pairs, but always with the proviso that there is

NEVER

more than four people on any one rink.
CHANGE NO. 2
SATURDAY AFTERNOON SOCIAL BOWLS
STARTING SATURDAY JUNE 13
CONVENOR – DAVID CRISP
Cost per person is $5 – 

please have the exact money.
Two games each of 11 ends with a short break in between.
Since there will be no food or drink provided during the break,
Players are encouraged to bring their own supplies of each.
As with Saturday afternoon social bowls last year, each person playing on the day will be allocated a number and at the end of play, three numbers will be drawn and prices of $20, $10 and $5 awarded.
CHANGE NO. 3 
THURSDAY AFTERNOON NOMINATED PAIRS
STARTING ON THURSDAY JUNE 18
CONVENOR – RODNEY SNIBSON
Cost per person is $5 – 

please have the exact money.
Two games each of 11 ends with a short break in between.    Games will be played on the top Green in the East-West direction.
Since there will be no food or drink provided during the break, players are encouraged to bring their own supplies of each.
If you want to play Thursday afternoon pairs, please email or text your name along with that of your pairs partner (if you have decided on one) to Rodney no later than Wednesday, June 10.

If you do not have a partner and want to register as an individual please email or text your name to Rodney by June 10.  
If you would like to be an emergency for Thursday afternoon pairs, please email or text your name to Rodney by June 10.
Rodney's contact details –
rsnibson@melbpc.org.au or 0490 207 487.
From the names received (be they pairs or individuals) Rodney will put together the team cards and rinks for the competition.  The team cards will be available on game day.
It is assumed that the pairs that nominate or are formed will play every Thursday afternoon.   

If f

or some reason a pair cannot play, someone from that pair must call Rodney as soon as possible.   If one person in a pair cannot play any particular week it is that person's responsibility to call Rodney as soon as possible and advise him that a substitute player is required.
At the end of a day's play,  prizes will be awarded to the pair with the highest winning points total, the second best points total and from amongst the teams not already awarded a prize, the best single game result.
This year there will not be a Thursday jackpot.

……………………………………………………………………………………………………………………………………………………………………………………………………………………………………………

 

2019/2020 SEASON 
SECTION FINAL WINNERS  – 

WEEKEND PENNANT – DIVISION 7 – SECTION 3

Greg Carroll, Judy Cashen, Steve Fazekas, Graeme Fuller, Pat Gall, Rob Haines, Brian James, John Kerr, Brian McIntosh, Elspeth Orchard, Betty Rodgers, Paul Smith, Rodney Snibson, Stan Tusek, Tony Vandenberg, Alastair Will.
 SEMI FINALISTS – MIDWEEK PENNANT – DIVISION 2 – SECTION 3
A VERY HARD FOUGHT AND CLOSE GAME – JUST LOST BY TWO SHOTS
WELL DONE TO FINISH SECOND ON THE LADDER AFTER 18 MATCHES OVER THE SEASON
……………………………………………………………………………………………………………………………………………………………………………………………………………………….

CARMELO'S LATEST BULLETIN 19th MARCH 2020 – SEE UNDER COACHING TAB

CARMELO'S COACHING WILL BE HELD TUESDAYS + FRIDAYS
WATCH FOR INFO FOR STARTING TIME AND DATE

EVERYONE WELCOME
……………………………………………………………………………………………………………………………………………………………………………………………………………………….
GWYN WILL NOT BE CONDUCTING MONDAY SOCIAL BOWLS UNTIL FURTHER NOTICE

MONDAY SOCIAL BOWLS
PLAYS ALL YEAR
BE AT THE CLUB 12:15pm FOR 12:30 START

EVERYONE GETS A GAME

NEW AND EXPERIENCED BOWLERS

TRIPLES / PAIRS – 2 GAMES OF 13 ENDS

DRESS – MUFTI
COST – $7.00
ORGANISER – GWYN PRITCHARD
      ……………………………………………………………………………………………………………………………………………………………………………………………………………………….
THE CLUB DINNERS WILL NOT BE HELD UNTIL FURTHER NOTICE
FRIDAY MONTHLY CLUB DINNER
OUR CHEFS FOR THIS DINNER 
PLEASE NOTE – THE LAST DAY TO ADD YOUR NAME TO THE LIST IS THE WEDNESDAY PRIOR TO THE DINNER
……………………………………………………………………………………………………………………………………………………………………………………………………………………………
BRIAN WILL NOT BE CONDUCTING WEDNESDAY TWILIGHT SOCIAL BOWLS UNTIL FURTHER NOTICE
CASUAL LAWN BOWLS

EVERY WEDNESDAY 6:30PM- NO CHARGE – JUST COME ALONG

FOR  INFO CONTACT BRIAN – 0428 713 578

WE HAVE MODERN LAWN BOWLS FOR YOUR USE AND INITIAL TUITION.
YOU JUST NEED BARE FEET OR FLAT SOLED SHOES
PLENTY OF FREE OFF STREET PARKING
………………………………………………………………………………………………………………………………………………………………………………………………………………
CLUB FRIDAY IS DISCONTINUED UNTIL FURTHER NOTICE
………………………………………………………………………………………………………………………………………………………………………………………………………………
CLUB FRIDAY DISCONTINUED UNTIL FURTHER NOTICE
     

  

Each Friday (except the first Friday of the month when we have our monthly dinner) we have a get together at the Club, play cards, chat, play lawn bowls, plus light food is on offer and our bar is open.   Join us from 4:00pm.   And of course there is the Member Jackpot and The Money or the Envelope and The Envelope or the Envelope.  
MEMBER JACKPOT          
Our Jackpot on the 13th March was $230.00.
our lucky  winner was Sandra Dunbar who wasn't at the club.
OUR NEXT Member Jackpot will be at $250.  Be at the Club to have a chance to win.
PICK A CARD

Is drawn on the last Friday of each month, so get your free tickets into the bucket during the month.
So if you are at the club and yours is the lucky name drawn there will be 20 Envelopes to choose from with 17 monetary prizes and 3 lesser prizes then bargain – you have a chance to choose the prize on the card or bargain for an alternate prize – see our flyer for all information on our prizes and Club Friday.

Our lucky winner for February
THE ENVELOPE OR THE ENVELOPE
From time to time we have another opportunity for members – a lucky member's name will be drawn out of the 'free ticket bucket' – then there is a choice of two envelopes. Who knows what is in the envelopes?  
The last lucky winner
CARDS  
Euchre is on each week.  Unsure of how to play? Come along and see how easy it is.
……………………………………………………………………………………………………………………………………………………………………………………………………………………………………………………………………………………
10 REASONS TO PLAY LAWN BOWLS
IT'S FUN & FAMILY FRIENDLY – Bowls is great fun and is something the whole family can enjoy together.
IT'S SOCIABLE – Bowls attracts people of all ages and from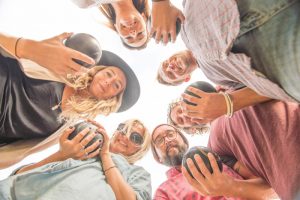 all walks of life. Bowls clubs are a great way to meet new people or to enjoy time with loved ones and friends.
ANYONE CAN PLAY – Bowls is truly a sport for all. Literally anyone can play regardless of age and physical ability.
HAND EYE COORDINATION – Assists with hand-eye coordination and concentration.
IT'S LOW COST – Whether you play socially or pennant, bowls is cheaper to play than most other sports.
YOU DON'T NEED MUCH EQUIPMENT – You don't need a lot of expensive equipment to play bowls. Eventually you will need a set of bowls but our club provide new players with a set to learn with. The only other thing you need is a pair of flat soled shoes and you are ready to play.
IT'S VARIED – there are many ways and formats to play bowls. You can play alone, or with a team. For a long time, a short time, socially, against mates or play with the whole family.
ACTIVE & OUTDOORS – Bowls is a great way to get some light exercise and spend time outdoors.
IT CAN BE COMPETITIVE – whether you are playing socially or are a dedicated bowler bowls brings out the competitive spirit in us all.    For those who would like to don the Club uniform there is pennant each week during the pennant season – September to February.
'It's not about winning or losing – it's about playing the game
:::::::::::::::::::::::::::::::::::::::::::::::::::::::::::::::::::::::::::::::::::::::::::::::::::::::::::::::::::::::::::::::::::::::::::::::::::::::::::::::::::::::::::::::::::::::::::::::::::::::::::::::::::::::::::::::::::::::::::::::::::::::::::::::